the day is new and so am i. it is even better than a new year, it is a fresh bright new twenty four hours. endless possibilities, boundless hope. the novelty of this notion will never lose it's power over me. and i love that.
i watch in sheer wonder as her eyebrows arch, her lashes sweep, her nose, simply exists, so perfect in the morning light. her hair flutters from the breeze coming from the fan. she scrunches a tight fist to rub a tired birthday eye. i eat it all up. if you ask me, it is better than cake.
even better? i didn't throw up from meds this morning! hallelujah!
this afternoon is momma time to strut and sway to a weird, but fabulous mix of ryan adams, aerosmith, miranda lambert, and kings of leon. there is always laundry to do and things to pick up and 10 more doses of eyedrops to get in before the day is done, but in this moment it is my time to play and lose myself in the melodies. taking a breather from to dos and must dos and oh i'm so happy i
get
to dos (as in putting together a massive giveaway post for tomorrow to raise funds for cystinosis research).
it is another big week for us around here. there is
so much
to be happy about!
sneak peek from sookie's party at
dear lizzie
.
another piece of joy to kick off this gorgeous week? a happy girl was picked as "blog of the week" over at

gentri lee's

(!!!!

)

i am speechless with gratitude and unbelievably honored! i'm sharing a guest post over at gentri lee's today as well, so please

check that out

! it just might spark some inspiration for you. i hope it does! :)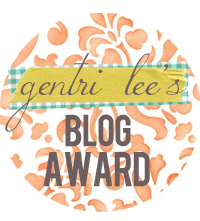 wishing you a happy monday!
make it happen.
xo.
tahnie